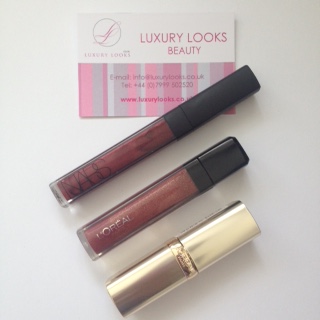 National Lipstick Day 2015 – Our Top 3 reviewed
Today it's National Lipstick Day and at Luxury Looks we have got 3 top favourites at the moment.
Continue reading below to find out what we think about each one and which one is the ultimate winner for us!
1). NARS – Larger Than Life Lip Gloss – Rouge Tribal
Described as metallic burgundy in colour, this lip gloss has a high-shine and dramatic effect. Sleek and small so easily fits into your pocket or purse. Although the colour itself is beautiful it doesn't have the best staying power and fades really fast. It is also quite sticky! This particular lip gloss has a shorter bristle application brush but the gloss itself is actually applied better and more evenly with a disposable lip gloss applicator. Be sure to carry this with you as you will need to re-apply throughout the day.
2). L'Oreal Paris – Infallible Gloss – Flash Dance DAZZLE 208
If your looking for shine this one is for you. Available in a range of colours, Flash Dance, once applied leaves lips feeling hydrated without stickiness.  We love the shape and feel of the applicator (looks like a tear drop) which is soft and allows perfect application. Nice consistency, smooth and it stays on your lips for hours.
3). L' Oreal Paris Color Riche – Oud Obsession 703
With so many different shades to choose from this one feels soft and smooth on the lips and does not smear or bleed. The formula is creamy and moisturising and easy to apply not to mention it's long lasting. There is the 'old-school' lipstick fragrance which may bother some but if you can handle the smell then this one is great.
Overall, out of the three above Luxury Looks WINNER is:
Number 2 – L'oreal Paris – Infallible Gloss – Flash Dance DAZZLE 208 – We just love this lip gloss, its shine, feel and staying power. 
Want us to review more products? Leave us a comment or e-mail info@luxurylooks.co.uk